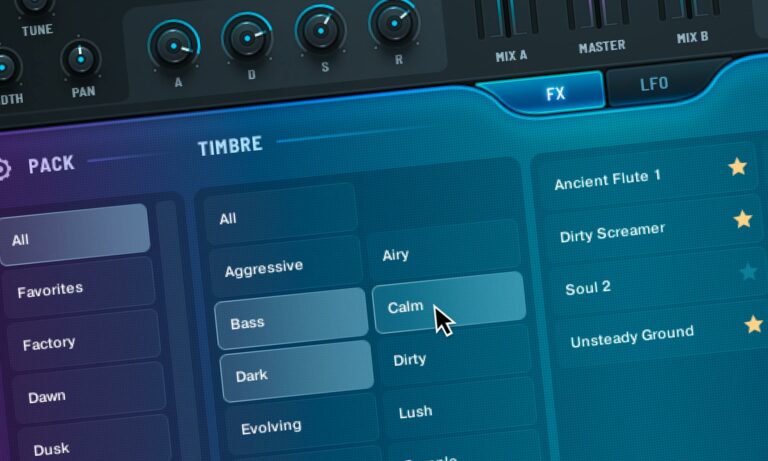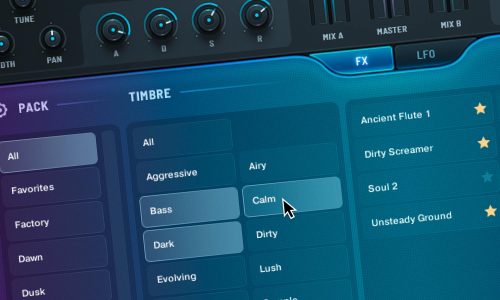 The new Ambition update has been released – v1.1, available free to registered users. The upgrade provides an improved sound browser UI and makes way for the all new Ambition Expansion Sound Packs. With the new version you can now search sounds by category/timbre, find sounds by expansion pack, create a list of favorite sounds, and combine factory and expansion sounds together for almost limitless possibilities.
The first two Ambition Expansion Sound Packs will be available imminently so we wanted to give you guys a bit of an inside scoop of how the expansion sound packs were made and give you a sampling of the sounds you can expect to hear when you download the packs.
Start by Taking a Listen
Check out these demos featuring sounds exclusively from the new expansion sound packs. Notice the difference in timbre from the Dawn sounds to the Dusk sounds, each expansion sound pack will have its own character, style and vibe.
Meet the Mastermind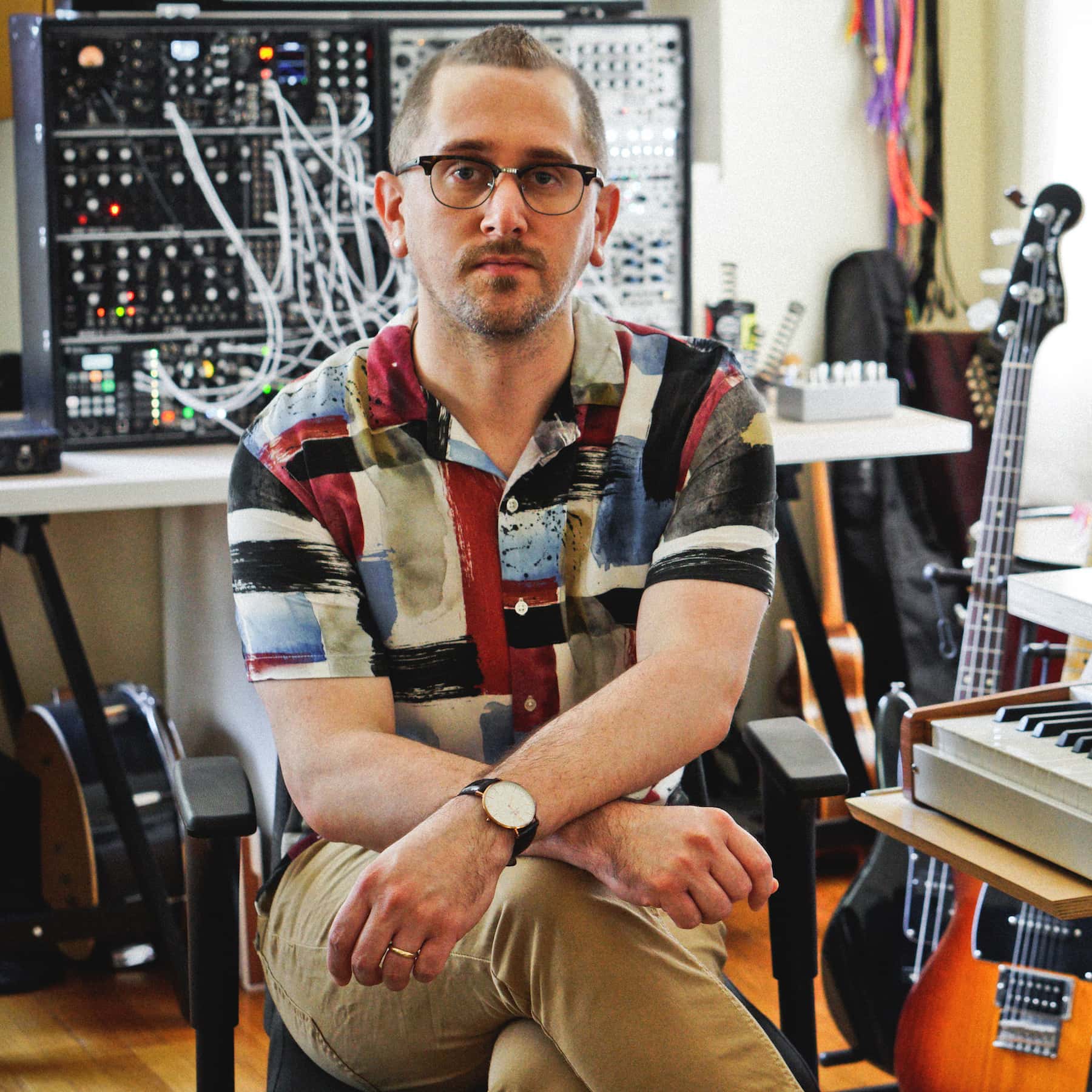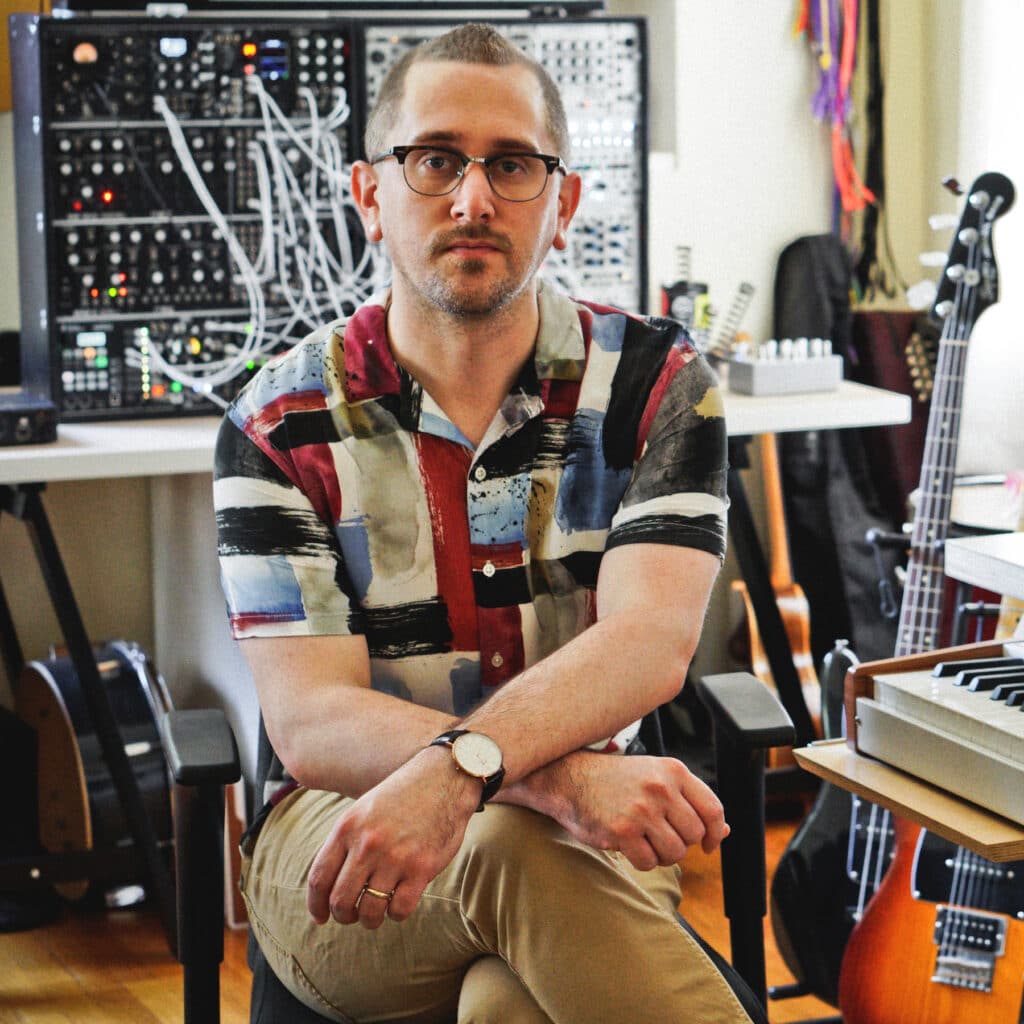 To create the first two expansion sound packs, Dawn and Dusk, we teamed up with the very talented composer/sound designer René G. Boscio. If you don't already know, Boscio is an L.A. based composer, producer, and multi-instrumentalist. He's contributed music to over 100 hit TV series episodes. Shows like Riverdale (The CW), Blindspot (NBC), The Flash (The CW) as well as scoring many independent films. He has collaborated with filmmakers and performers such as William Shatner, James Franco, Morena Baccarin, Ivonne Coll, Brianna Hildebrand, Todd Grinnell, and Others.
Having composed and produced original scores for over 50 visual media productions, including nearly a dozen feature films and award-winning documentaries, it was clear that René's extensive background in creating epic soundscapes and film scores would be perfect for helping us create the new expressive sounds and textures for the first Ambition Expansion Sound Packs.
Meet The Expansion Packs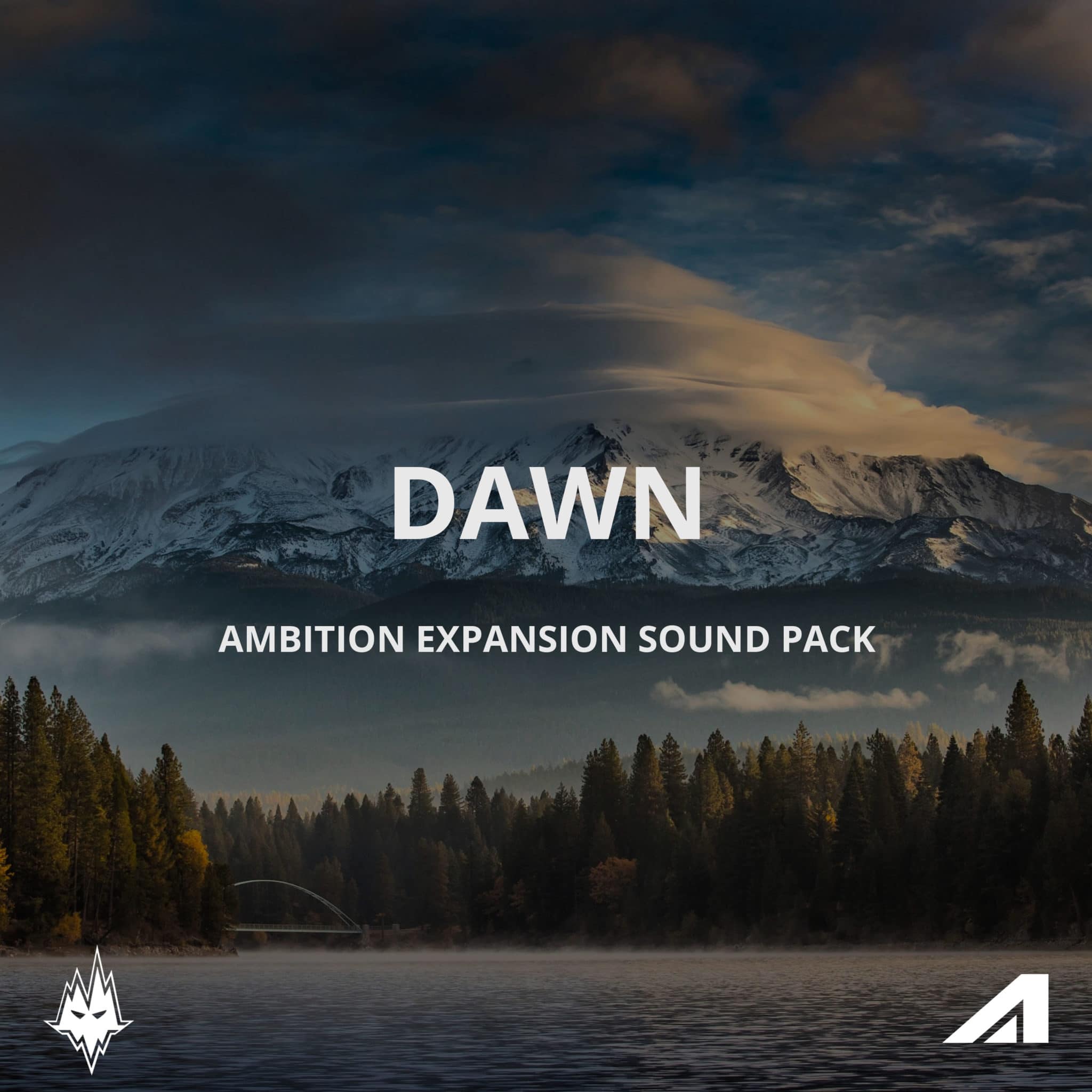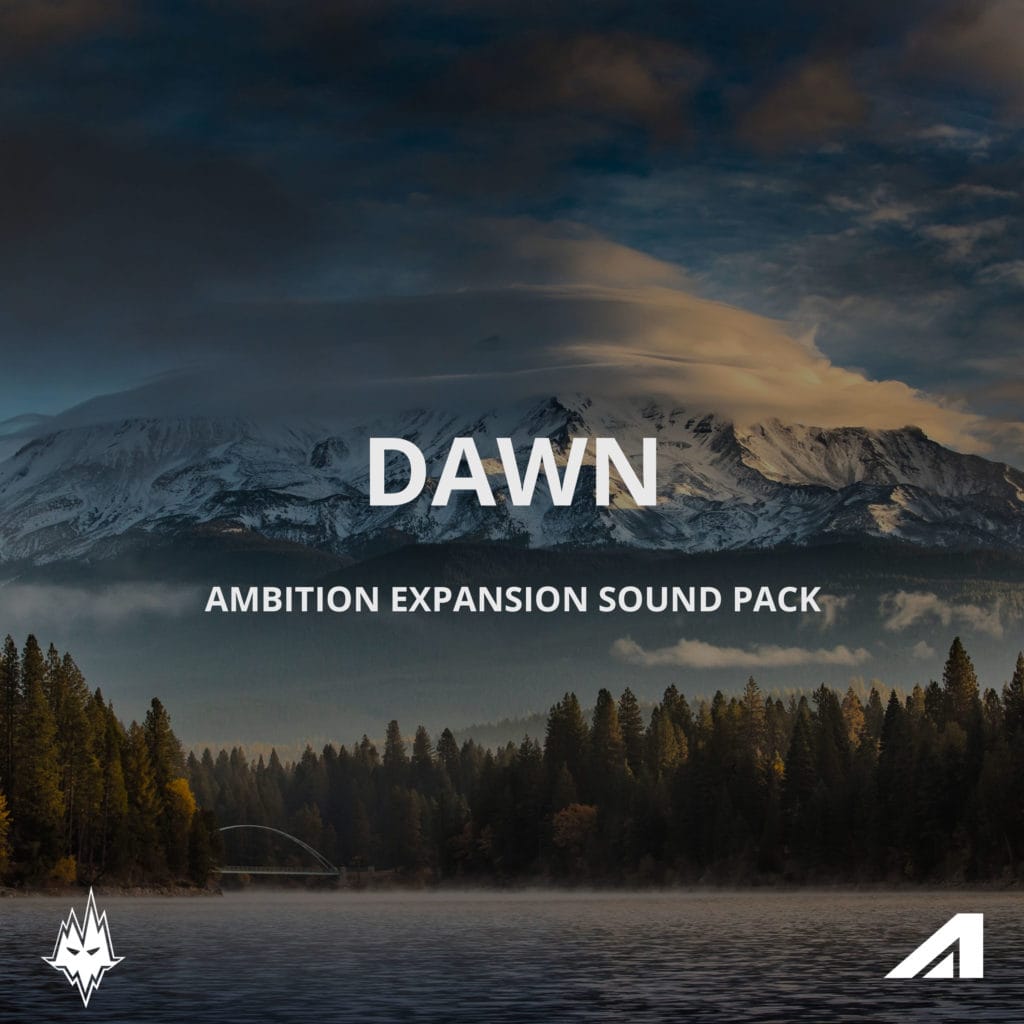 A collection of warm and emotive melodic presets made from dramatic sample sources. Dawn is an illuminating musical experience for Ambition. Dawn includes a blend of rising and strong hybrid scoring essentials. Dark pads, expressive textures, designed synths, experimental keys, lush modular rhythmics and ambient cinematic sounds round out this hybrid expansion sound pack for Ambition.
Features:
60 core sample presets
70 custom snapshots
600 high quality chromatic samples
2.4 GB of samples
11 Evolving
19 Keys
22 Pads
9 Pulses & Motion
9 Playable Textures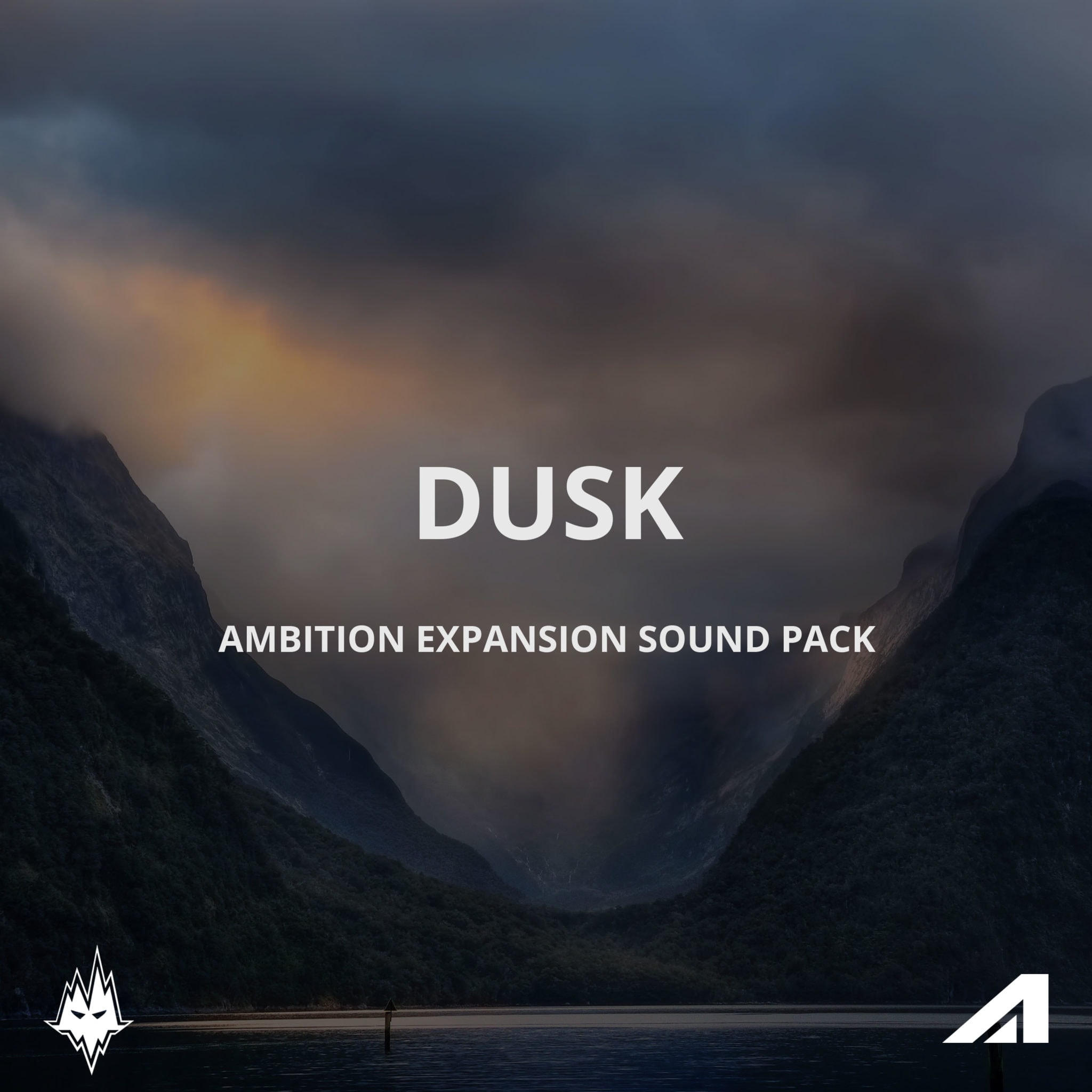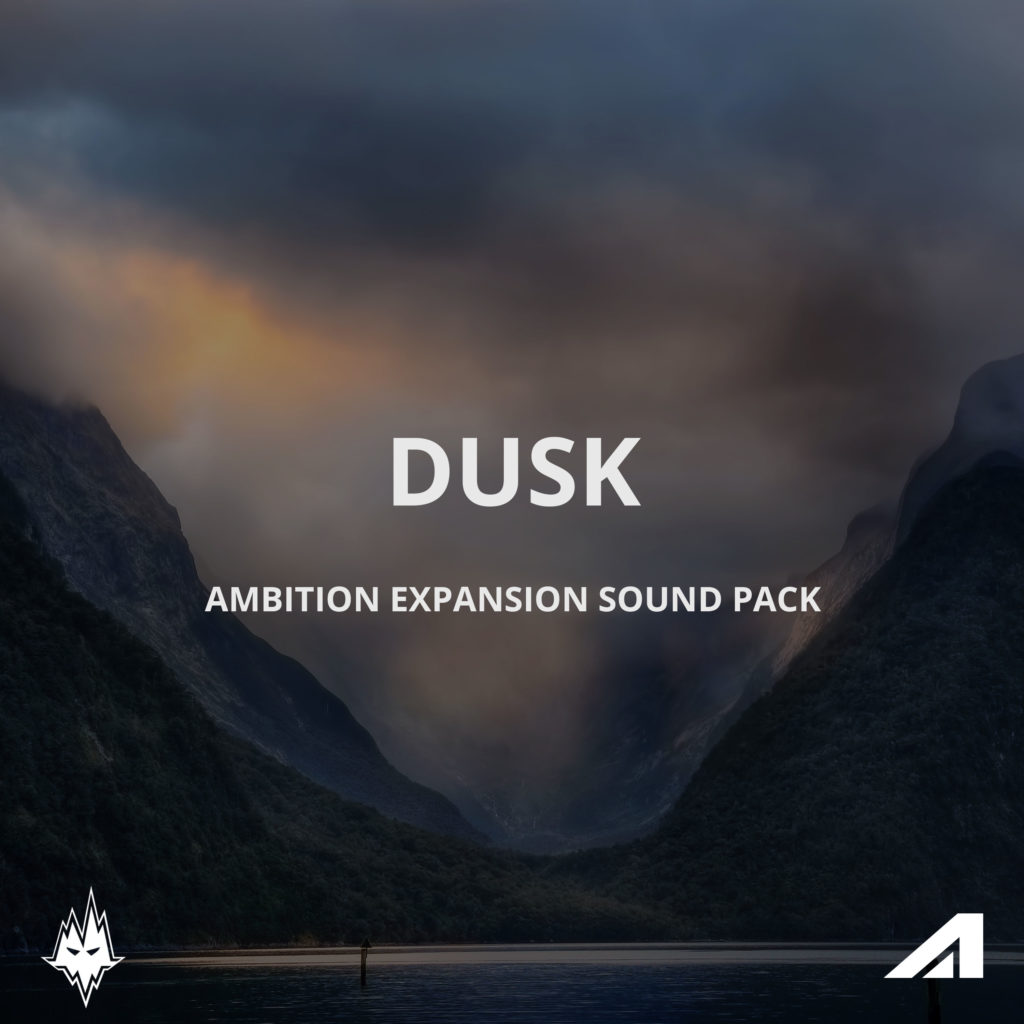 The darker companion of the Dawn expansion pack, Dusk is a sample collection engineered with powerful modular synth presets, analog synths and outboard gear to create core sample sources that evoke longing, solitude, apprehension and foreboding. Dusk includes aggressive timbres mixed in for a sound palette that can set the scene for almost any pop music or scoring assignment.
Features:
60 core sample presets
70 custom snapshots
610 high quality chromatic samples
2.8 GB of samples
7 Evolving
11 Keys
22 Pads
14 Pulses & Motion
16 Playable Textures
How Were The Sounds Made?
The sounds you'll hear in Dawn and Dusk were crafted using a wide variety of hardware synths, modular rack synths, and effects units. Combining sounds from many different popular synths such as the DSI's Prophet Rev 2, the Moog One, and the Tasty Chips GR-1 Granular Synthesizer, Boscio was able to fabricate an amazing array of core samples perfectly suited to Ambition's strengths. It's quite an inspiring list of gear, check it out.
Ambition Dawn and Dusk Expansion Sound Pack – Gear List
Hardware Synthesizers:
• Dave Smith Instruments Prophet Rev2
• Moog One
• Tasty Chips GR-1 Granular Synthesizer
• Soma Laboratories Lyra-8 Organismic Synthesizer
Hardware Electro-Acoustic Instruments:
• Electro Lobotomy Sonic Forest
Hardware Effects Units:
• Empress Effects Reverb Pedal
• Onde Magnetique Cassette Echo (Marantz PMD222)
Hardware Eurorack Modular Synthesizer:
| | |
| --- | --- |
| 2HP VCA | Make Noise Optomix Rev2 |
| 4ms Quad Clock Distributor | Make Noise QPAS |
| 4ms Spectral Multiband Resonator | Make Noise STO |
| ALM Busy Circuit's Pamela's New Workout | Make Noise Telharmonic |
| Doepfer A-119 Ext. Input | Macro Machines Omnimod |
| Erica Synths Sample Drum | Moog Drummer From Another Mother |
| Erica Synths Stereo Mixer | Moog Mother-32 |
| Expert Sleepers Disting MK4 | Mr Seri uBurst |
| Instruo Troika | Mutable Instruments Plaits |
| Intellijel Audio I/O | Noise Engineering Extra Mullet |
| Intellijel Mixup | Noise Engineering Loquelic Iteritas Percido |
| Intellijel Planar | Noise Engineering Terci Ruina |
| Intellijel Plonk | Plum Audio uO_C |
| Intellijel Polaris | Retro Mechanical Labs Electron Fuzz Custom |
| Intellijel Quad VCA | Rossum Panharmonium |
| Intellijel Quadrax | Squarp Hermod |
| Intellijel Tetrapad | SSF Stereo Dipole |
| Intellijel uScale II | SSF Ultra-Random Analog |
| Make Noise DPO | Strymon Engineering Magneto |
| Make Noise Erbe-Verb | Synthesis Techonology E352 Cloud Terrarium |
| Make Noise Maths | WMD Buffered Mult |
| Make Noise Mimeophon | WMD Sequential Switch Matrix |
| Make Noise Morphagene | WMD/SSF Multi-Mode Filter |
Software Plug-Ins:
• 112db Mikron Cascade
• Arturia Plate Reverb
• Izotope Iris2
• Logic Pro X Stock Plug-Ins
• Native Instruments Guitar Rig FX
• Soundtoys 5 Collection
• UVI Falcon
• Valhalla DSP VintageVerb
Sound Categories
In the new UI, Ambition's sounds are now categorized by timbre. Now it's easier to quickly browse through groups of similar samples to find the right sound! Timber categories are as follows: Aggressive, Airy, Bass, Calm, Dark, Dirty, Evolving, Lush, Metallic, Sample, Synth, and Treble.
Here is a list of some select sounds from both expansion packs showing how they are categorized and the gear/effects used to design the snapshot.
| | | | |
| --- | --- | --- | --- |
| Expansion Pack | Preset/Snapshot | Timbre | Gear Used |
| Dawn | Bipolar Drone | Evolving | Prophet Rev2 |
| Dawn | Underwater | Lush | Modular – Falcon |
| Dusk | Sandy Strings | Dirty | Cuatro – Falcon |
| Dawn | Frail Bones 02 | Calm | Modular – E-352 |
| Dusk | Shaping Waves | Treble | Modular – Plaits |
| Dusk | LyraFeed | Metallic | Lyra-8 |
| Dawn | Boscio Vox | Synth | RGB Vocals Into Falcon |
| Dawn | DPO SqrSaw | Bass | Modular – DPO |
| Dusk | The Valley | Aggressive | Clipboard Into Falcon |
| Dusk | Vinyl Erbe | Dark | Modular – Erbe Verb |
An example of sounds from the expansion packs showing how they are categorized and what gear was used to make the core samples and snapshots
As you can tell, a lot of time and care went into the creation of these incredible new sound packs. Each sound was meticulously crafted using top-notch sounding gear in order to provide a truly exceptional musical experience. The quality of these sounds is unmatched, and we are genuinely excited to share them with the world. Note: Snapshots in the new expansion packs were made only with the expansion's core samples. That means theres an entire world of sound exploration un-tapped by creating snapshots using the Ambition factory sounds combined with the expansion pack sounds. We look forward to hear what you come up with!
Thank you all for the continued support and we hope you enjoy our new Ambition Expansion Sound Packs!
Resources
Sample Library Review – Review: Ambition by Sound Yeti – https://www.samplelibraryreview.com/the-reviews/review-ambition-by-sound-yeti/
Ambition – Product page with demos – https://soundyeti.com/ambition/
Ambition – Product Introduction Trailer – On YouTube
Ambition Expansion Sound Packs – Product Listings
Dawn and Dusk Showcase of Sounds – On YouTube
Ambition Expansion Pack Demos – https://soundcloud.com/thesoundyeti/sets/ambition-expansion-demos
How to Install Ambition Upgrade and Expansion Sound Packs – Video
René G. Boscio's Album – https://soundcloud.com/renegboscio/sets/if-we-seek-with-intent