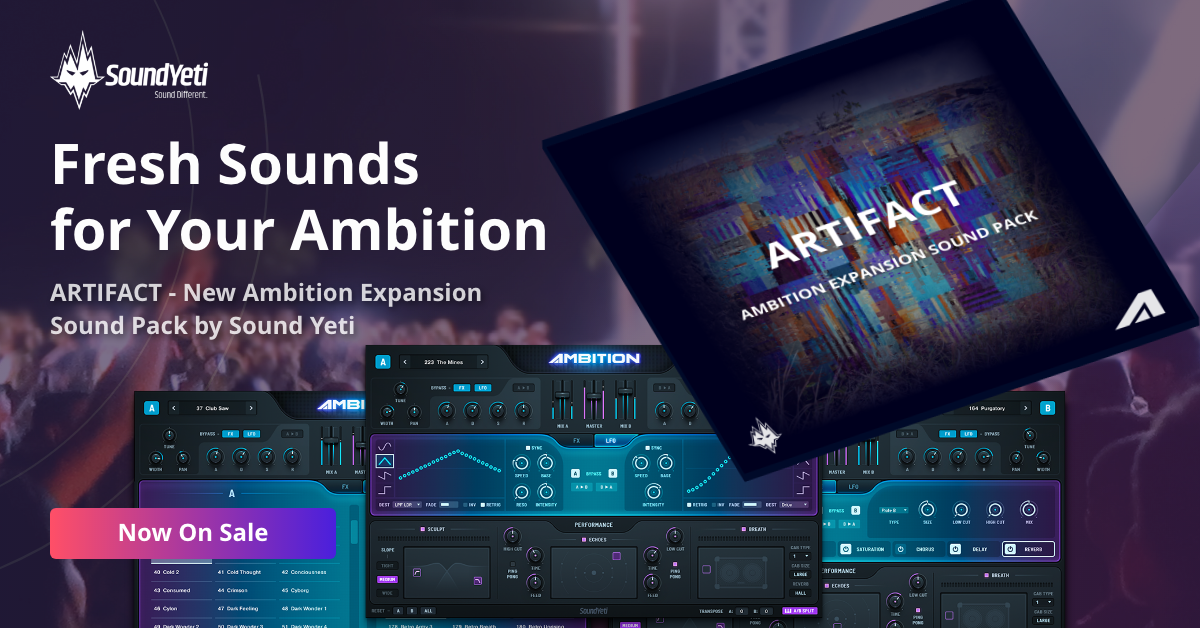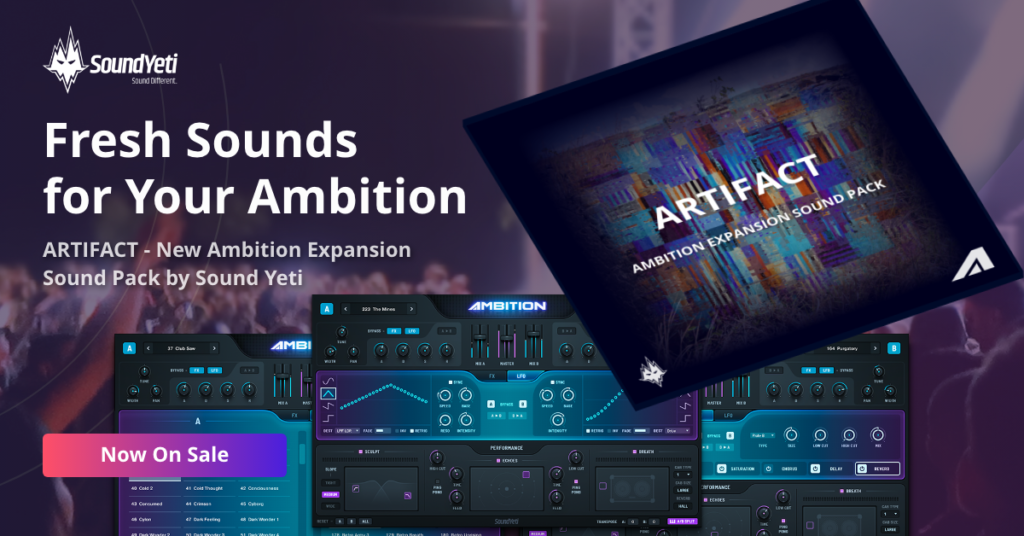 It's time to get inspired. The 5th release in the Ambition Expansion Sound Pack series is available now and it's certain to become the favorite expansion for Ambition fans. Artifact extends the power of Ambition into the creative processing of acoustic and organic source samples – producing a rich, naturally gritty and beautifully earthy sound collection.
Combined with Ambition's sophisticated effects processing units and proprietary performance controls, you are sure to find boundless creativity with this expansion sound pack. Read on and get to know the newest member of the Ambition Expansion Sound Pack collection – Artifact.
Designing the Sounds of Artifact
The motivating theme behind Artifact is an exploration in twisting and mangling organic source materials and acoustic instruments. Long cello recordings sliced and diced by granular synthesis, field recordings of birds in a forest, then processed through modular synths, outboard audio gear and more. Another example, tape hiss and crackles are positioned right alongside the crackling of a campfire. And how about the grinding texture of ancient heavy stones re-synthesized with cutting edge digital modular synthesizers. Just so we are clear, we were not timid as far as our willingness to process the sounds of Artifact. 🙂

For those familiar with the series, Artifact picks up where Relic left off. It's an organic and natural extension to the set of character filled sounds for the almighty Ambition engine.
Artifact Product Details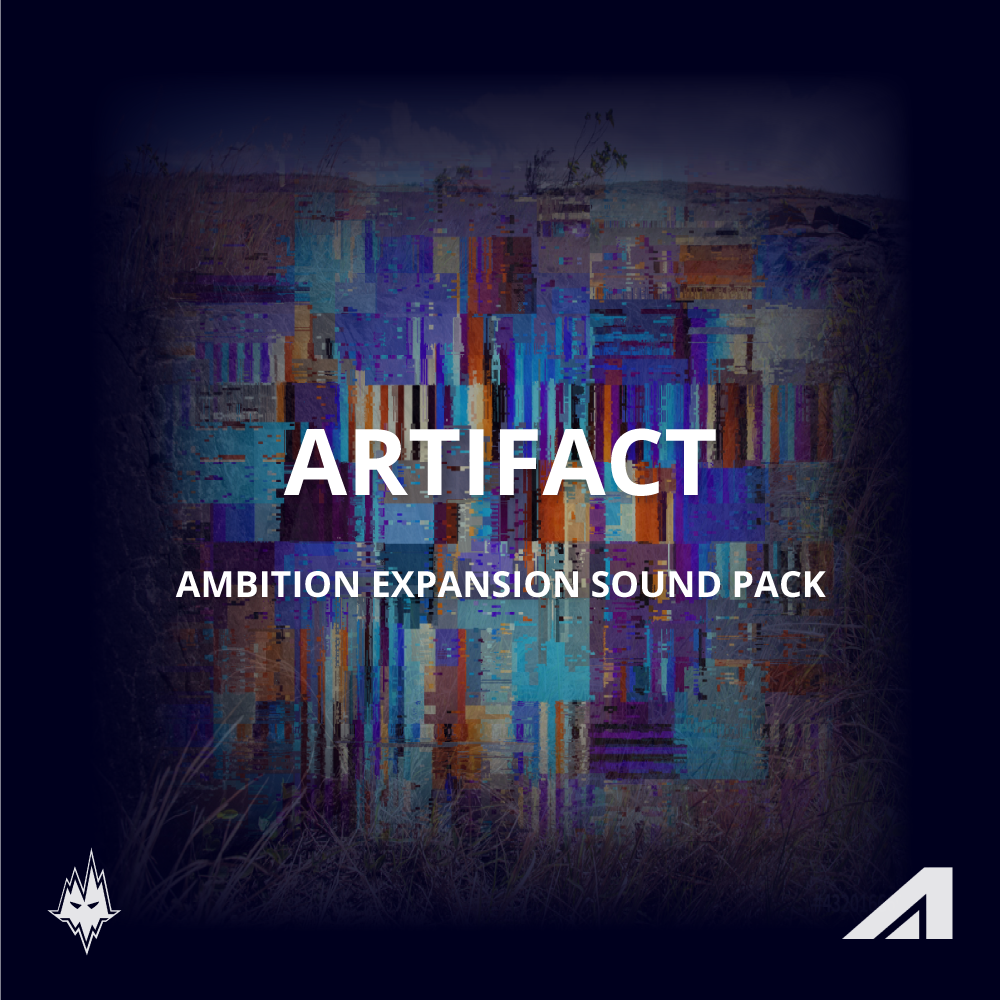 Get inspired by the 5th release in the Ambition Expansion Sound Pack series. Artifact extends the power of Ambition to creative processing of acoustic and organic source samples.
Artifact delivers a unique and eclectic collection of sounds that are both earthy and emotive. 70 snapshots at the ready help you convey subtle harmonic elements, bold textures and leading voices with ease. Ear crafted from 40 discrete sample sources including 15 different acoustic instruments and 10 organic/natural sound sources. All mixed and mangled to produce an extraordinary auditory experience for Ambition.
Features
60 Original sample sources
70 Snapshots
600 High-quality chromatic samples
1.10 GB of custom samples
10 Evolving
13 Hybrid Keys
29 Pads
9 Pulses & Motion
9 Textures
Gear List
Below is a partial list of the synths, instruments, hardware, that was used in the creation of the Artifact source samples.
Acoustic Instruments
Gibson Hummingbird
Upright Bass
Cello
Violin
Viola
Native American Flutes
Duduk
Trombones
Euphonium
Vibraphone
Kantele
Psalmodikon
Kalimba
Synths
ASM Hydrasynth, Soma Laboratory Lyra-8, Mellotron Micro, Moog Matriarch, Moog Sub 37
Other Processing
Audient iD44 Interface
Focusrite Scarlett Octopre
Elektron Analog Heat
Akai GX-400D Reel to Reel Tape
Guitar Pedals (Empress Zoia, Hologram Electronics Microcosm, Earthquaker Devices Avalanche Run, Strymon Iridium, Retro Mechanical Labs Electron Fuzz Custom)
Modular Synths
Modular Synths ( Rossum Electro Music PanHarmonium, Intellijel Plonk, Vult Freak, Erica Synths Fushion VCO 2, Befaco Chopping Kinky,Make Noise Mimeophon, Make Noise Morphagene, Mutable Instruments Clouds, Mutable Instruments Plaits, Qu-bit Electronix Bloom, Qu-bit Electronix Data Bender, )
Select Source Group Descriptions
| | |
| --- | --- |
| Source / Sample Group | Gear Used |
| Synthesized Rain | Field Recording of a winter rain storm sent through the Rossum Electromusic PanHarmonium, Vult Freak Filter, and Noise Engineering Desmodus Verso. pitch resonance boosted with Arturia's Pigments 3 software |
| Mellow Horns | Euphonium sampled and drenched in reverb from the Empress Reverb guitar pedal then paired with analog waveforms from the Moog Matriarch |
| Pots and Pads | Recording of a metal water bottle sliced and diced with Arturia's Pigments 3 granular synthesis engine and layer with bowed vibraphone recordings sent through the EarthQuaker Devices Avalanche Run |
The Artifact Ambition Expansion Sound Pack is available now. Naturally, we hope you are inspired with the powerful combination of processing acoustic and organic sounds. We are! We look forward to hearing what you create. Now go discover your signature sound with Artifact and Ambition!
—–
Editor's Note: Important – for snapshots to load properly, Artifact requires KONTAKT Version 6.6.0 or higher. 
Also, If you have not used an Ambition Expansion Sound Pack before, you may need to update to Ambition version 1.1.1 – Update takes less than 5 minutes and you can find your version and get the update files and instructions here on the Sound Yeti Support Center.
Resources
How to Install Ambition Expansion Sound Packs – Video
How to Install the 1.1.1. Update – Video
Relic Expansion – Showcase of Sounds – Video
Dawn and Dusk Expansions – Showcase of Sounds – Video
Ambition Expansion Pack Demos and Sound Showcases – On SoundCloud
Ambition Product Info – Learn More
Sample Library Review – Review: Ambition by Sound Yeti – https://www.samplelibraryreview.com/the-reviews/review-ambition-by-sound-yeti/
List of Ambition Expansion Sound Packs – Learn More
Ambition – Product Intro Trailer – Video